Guest Blog
Once a year go somewhere you've never been before. – Dalai Lama
(Today we're bringing you a guest blog by an insider in St. Thomas, USVI, Kelli Pavlovec from Sonic Charters in St. Thomas.  (Disclaimer: I have not personally used Sonic Charters St. Thomas Boat Rental.)  (Honeymoon Beach Photo Credit News of St John.)
After watching Hurricanes Irma and Maria sweep through the tropics some months ago, many cruise travelers are wondering what the Virgin Islands look like now. Here's your Caribbean update after the storms.
1. Nature Report
Escaping the 9-to-5 winter cold for natural sunny beauty is still the highlight of any trip to the Virgin Islands. More than two months after the hurricanes, the trademark lush vegetation is growing back beautifully. Greenery and flowers are blooming over the hilly terrain. Blue skies spread across sand and surf. Normalcy is returning for cruise travelers. The progress is faster than expected and truly remarkable. According to the website,  St. Thomas Source, tens of thousands of cruise passengers have already been to Post-Irma St. Thomas, and Royal Caribbean's visitor satisfaction ratings for the island are even higher now than before the storms.
2. The Beach Scene
Always a popular stop for cruise travelers, Magens Bay of St. Thomas is the ideal beach for hopping right off a cruise. With a beach restaurant, great snorkeling, lovely views, and almost a mile of white sand shoreline, Magens Bay has it all. Magens Bay has been welcoming cruise visitors since early November. After Irma, Magens Bay was one of the first areas targeted for cleanup. And it shows – the current-day beauty is striking. Over 500 new trees were planted to restore the beauty. The Magens Bay Beach Bar has also been open for over a month, serving refreshing rum punches as always. Other officially re-opened beaches include: Maho Bay, Hawksnest Beach, Honeymoon Beach, Cinnamon, and Trunk Bay. And don't just stay in one place. Take a boat charter to dock right on the private beach of your choice for snorkeling, swimming, and floating in the middle of nowhere, drink in hand. Island hopping is half the fun of the Virgin Islands.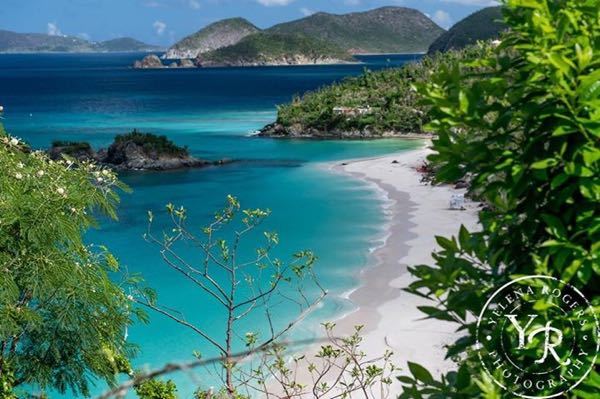 Trunk Bay Photo Credit Yelena Rogers.

3. What to Do in Paradise?
Whether you prefer luxuriating the whole day on a sunny beach or shopping till you drop, the Virgin Islands are anybody's paradise. After Irma, Charlotte Amalie restaurants have re-opened for business, offering everything from Caribbean fare to Italian, Spanish, grills, or just burgers, many with beachside seating. And local indoor and outdoor shops and boutiques are open for business, displaying artwork, jewelry, china, crystal, clothing items, and more.
This post brought to you by Sonic Charters St. Thomas Boat Rental. Whether you want to swim with the vibrant fish of the reef, kick back on a white sandy beach accessible only by boat, or party it up out on a tranquil bay, Sonic Charters has exactly the rental or charter for you.
Affiliate Link