God never said that the journey would be easy, but he did say that the arrival would be worthwhile. – Max Lucado
Churches in Old San Juan Puerto Rico
On our recent trip to Puerto Rico I had initially planned on finding all of the churches in Old San Juan, but there just wasn't enough time.  We were only in port until 2:00 pm ship's time.  However, I did manage to find and photograph two of the Roman Catholic churches, the Catedral de San Juan Bautista and the Parroquia San Francisco de Asis.
Catedral de San Juan Bautista
Both churches are beautiful.  The Catedral de San Juan Bautista (Cathedral of St. John the Baptist) is located on Calle del Cristo, and has had some damage from the recent hurricanes. This cathedral was originally the second oldest cathedral in the new world, built in 1540.  It has however been destroyed and rebuilt several times.  Ponce de Leon is actually buried in the cathedral.  You can also see the remains of St. Pio.  I believe that it is actually a wax sculpture of the body, and then the real skull covered in wax. Just a little bit creepy.
The outside of the cathedral is kind of nondescript, but the interior is beautiful.   There has been some damage to the outside from the hurricanes. Scaffolding was up when we were there. You can see the scaffolding on the left side of the picture.  The ceiling of the inside has some damage to the beautiful paintings, and I believe that they are working on restoring those.  I grew up Catholic, but our church was nothing like the inside of this cathedral.  It is truly magnificent.
It costs nothing to visit this cathedral, and it is open daily between 8:30 am and 4:00 pm.  I did notice that someone was giving a tour to some visitors, and I don't think that it costs anything.  There was also a small gift shop beside the cathedral.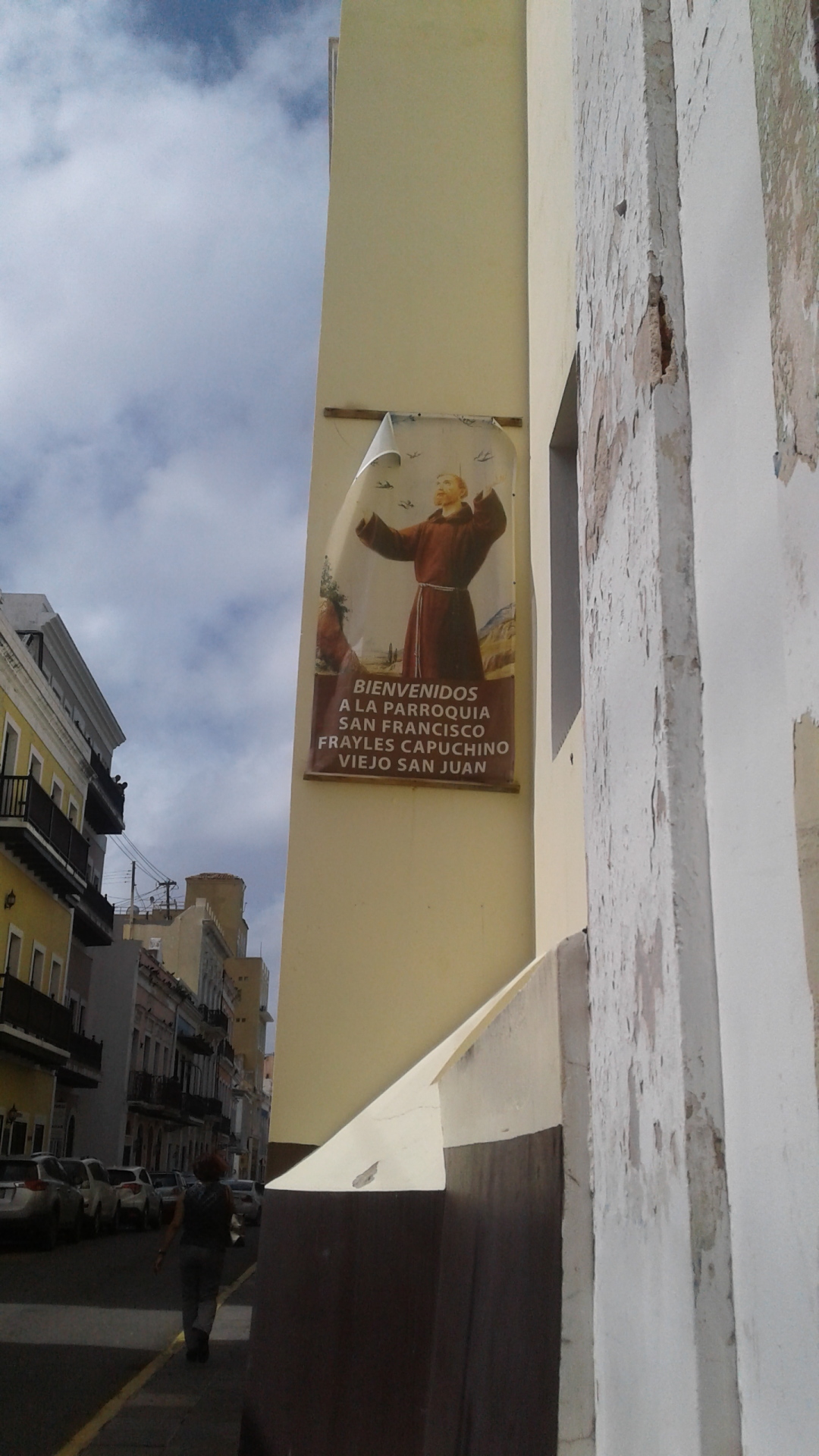 Parroquia San Francisco de Asisi
The other church that we vistited,  the Parroquia San Francisco de Asisi (Parish of St. Francis of Asisi), wasn't quite as grand as the Catedral de San Juan Bautista, but it was lovely in its own way.  It was a small church located on Calle San Francisco, near all the shops of Old San Juan.  If you're not looking, you could almost miss it.
Right next to the church  is a little park with benches.  This church was built in 1876 by the Franciscans and contains the crypts, also called catacombs, under the church where important people of Puerto Rico's past are buried.  The Capuchin Fathers took over the building in 1905.  The confessional was interesting, just doors in the wall with curtains over them.
Affiliate Link